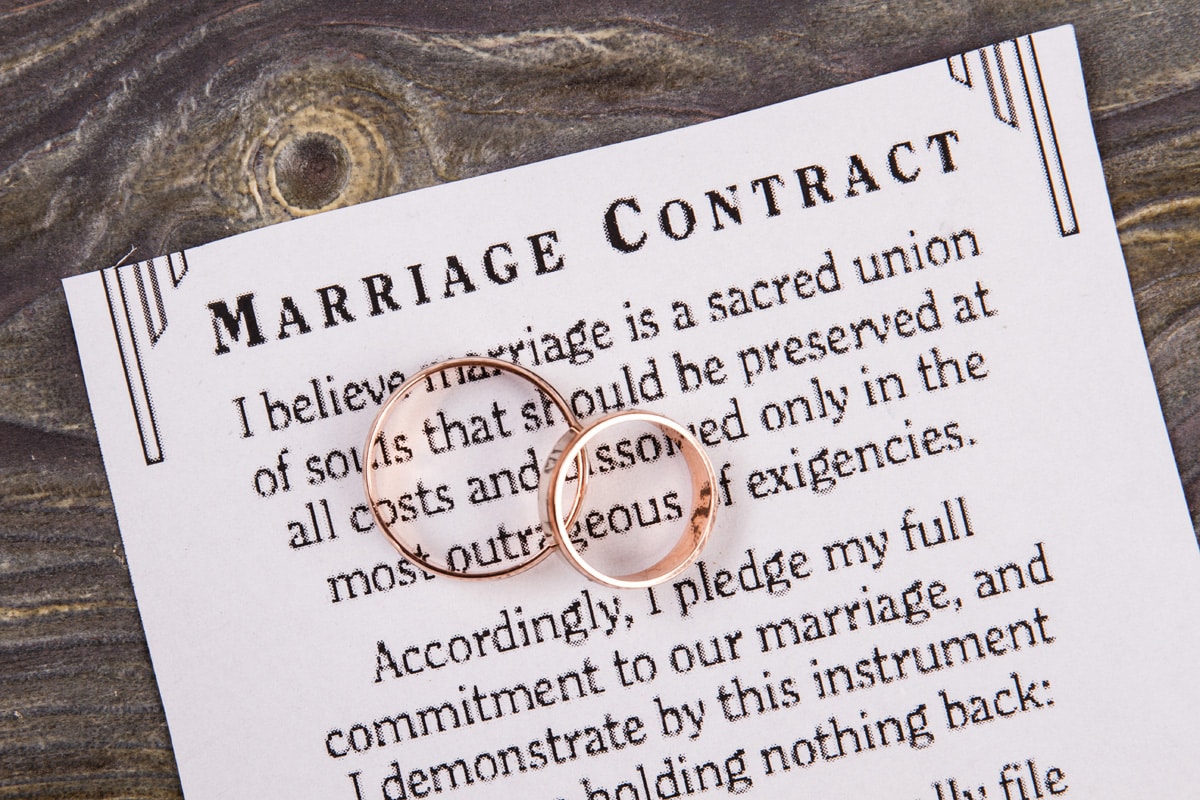 Couples can expect the process of drafting a prenup to take at least 2-3 weeks total. However, if you have done extensive research on these agreements, it's possible that you can shorten the amount of time this process takes.
PREPARING TO SIGN A PRENUP
Preparation is everything once you and your soon-to-be-spouse decide to sketch out a prenuptial agreement. There is some specific information you will need to have, and while this may vary based on the individuals, below is a list of common items to begin the process:
Last three months of paystubs
Last two years of tax returns
Credit card statements
Bank statements
Loan statements
Retirement/investment account statements
Complete list of valuable assets
Having these documents in place and ready to go will ultimately make your mediation session go by faster.
THE TIMING OF A PRENUP BEFORE A WEDDING
It is recommended to enter into a prenuptial agreement early because there can be some legal consequences for signing a prenup too close to your wedding date. It is also recommended to stay away from signing a prenup far ahead of your wedding (180-plus days in advance). Ideally, couples should enter into their prenuptial agreement 1-3 months before marriage. 1-3 months prior is the ideal timing for couples to enter into an agreement, with a suggestion to sign all paperwork at least 28 days in advance of the union.
Some reasons behind the suggested timeframe include one or both parties forgetting what was in the prenup or life circumstances that may ultimately change any prenup terms.
A prenuptial agreement provides insurance for couples enduring a failed marriage. A well-drafted prenup can serve as a road map, helping both spouses to find a path of least resistance and conflict during a divorce process.
WHAT DOES A PRENUP COVER?
A prenup can cover the following:
Existing children
Plans for estates
Property held in the family
Financial assets
Debt liability
Property division
Saving and spending plans
Individual and group property ownership
Individual and group business ownership
An agreement once you are married is known as a postnuptial agreement and the terms are nearly identical to a prenup.
It is a good idea to have a waiting period to finalize a prenup and consult an attorney who can describe the legal terms of the contact to you. The best prenups are arranged some time before the marriage so everyone can be fully aware of the terms.
CAN A PRENUP BE CANCELLED?
If the couple wishes to terminate the prenuptial agreement, they can do so in writing. A prenup can be changed at any time, but both parties must agree to said changes in writing. When you wish to simply change a few items in the agreement, the rest of the prenup still stands.
WHAT ARE THE RAMIFICATIONS IF YOU DO NOT HAVE A PRENUP?
Having a prenup in place allows both spouses to have clarity and expectations coming into their marriage. This agreement can make both parties feel more comfortable about entering into a union. It can help you feel as though your spouse is marrying you for all the right reasons, not just for your valuable assets. This agreement also allows couples to save money if a potential divorce occurs.
Need Divorce Attorneys In Scottsdale?