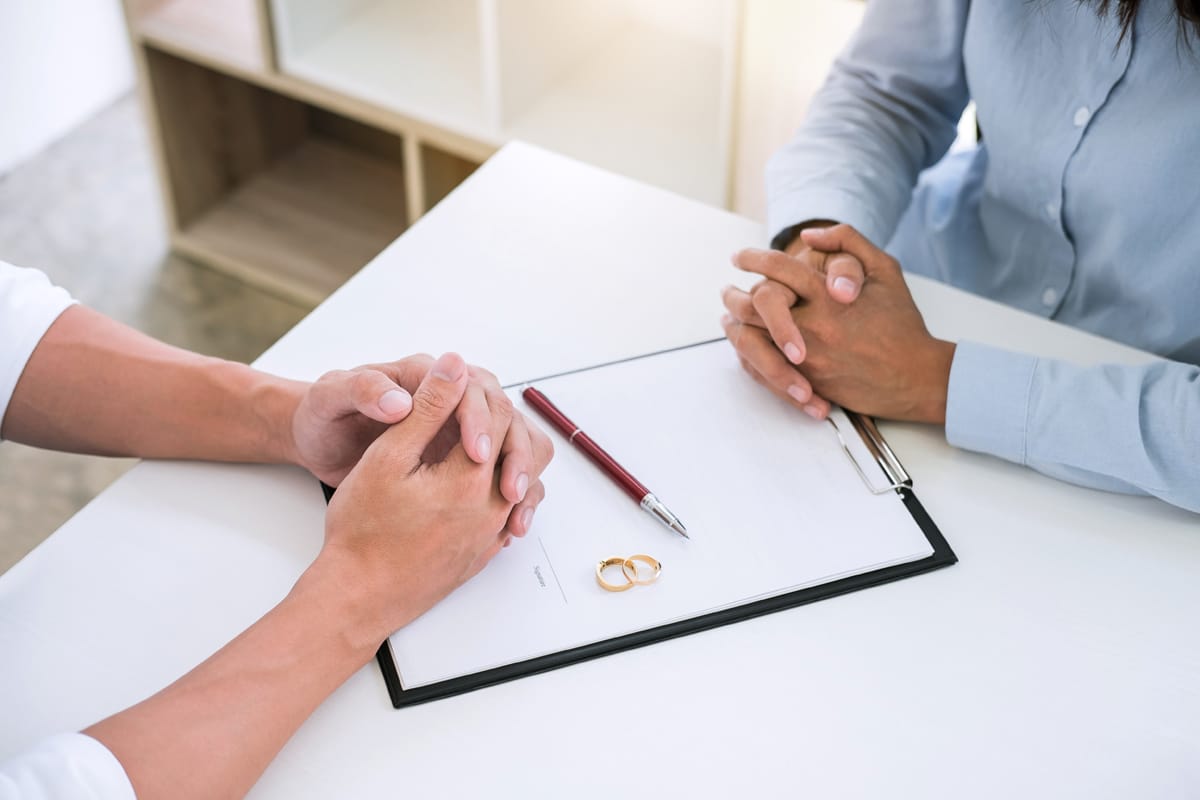 If an amicable divorce is in the cards, we're here to make the process as easy as possible with our full checklist.
Figure Out A Beneficial Parenting Plan
Decide where the child will reside; most parents split the custody 50/50 in these situations.
Plan out how and when they will see each of you.
Figure out a schedule for visitation, including special events and holidays.
Decide on how the child or children's lives will be financed.
Come to a mutual agreement on how to raise the children.
Figure Out Finances
Decide what happens to the family home: is someone staying there or is the house being sold?
How will you pay for the home?
Agree on how to divide up any personal belongings.
Find out which assets, savings and investments you currently have, then divide them equally.
Divide up any debts, if necessary.
Figure out how to pay for any divorce fees. Mandatory court filing typically costs around $600.
File Necessary Legal Paperwork
Start by filing your initial divorce petition.
The other party is required to file a response in writing in X days, then pay the responsive filing fee.
Mutually file a Consent Order to ensure the agreements are binding legally.
Include a Joint Parenting Plan alongside the Consent Order.
Modify your wills, if needed.
Inform Outside Parties
Inform all necessary outside parties of your impending divorce. For example, consider updating your marital status with these parties:
Tax office.
Credit card company.
Utility companies.
Benefit office.
Home insurance company.
Banks.
Life insurance company.
Mortgage lender.
Dentist.
Doctor.
Pension providers.
Schools.
Options for a Peaceful Divorce
Divorce mediation or collaborative divorce are the two best options for a peaceful divorce. Both methods of divorce avoid the stress and other complications associated with traditional courthouse divorce litigation.
What Is Mediation in Divorce?
Divorce mediation is a process that you and your spouse agree to undertake in order to determine what is best for you and your children (if applicable.) You and your spouse meet with a third-party mediator who assists you in resolving issues, allowing you to end your marriage amicably without incurring the high costs and lengthy court battles associated with hiring lawyers and pursuing extensive legal proceedings. Among the topics discussed are (but are not limited to) property distribution (liabilities and assets,) retirement, taxation, child maintenance/support, parenting time, and child custody. Typically, mediators are lawyers or retired judges who are intimately familiar with family law in your state.
Discover "What Is Divorce Mediation?"
Collaborative Divorce – What Is It?
Collaborative divorce is the process of resolving conflicts through problem-solving rather than the fight-and-win processes of the courtroom. Couples who choose this option reach an agreement on the terms of their divorce through a combination of negotiation and mediation. Indeed, some courts require divorcing parties to seek mediation or collaboration before proceeding to court. This process also saves money in comparison to hiring an attorney, saves time, and enables you to negotiate for the best possible outcome. Numerous collaborative divorce attorneys offer flat-fee arrangements, which ensures that you know exactly how much the case will cost from the start.
To learn more about "Collaborative Divorce,"
How To Divorce Peacefully With the Assistance of a Mediator or Collaborative Attorney
The following are the steps to a peaceful divorce:
Make a mutual decision to divorce one another.
Determine if divorce mediation or collaborative divorce is the best option for you.
To begin, contact a mediator or collaborative lawyer.
Through a series of mediations or collaborative divorce group sessions, you and your spouse can agree on divorce terms and conditions. The majority of collaborations conclude by the third or fourth session, which can last between two and three hours.
Signature of final, legally binding agreements
Submit the final legal paperwork to the Court for signature by your mediator or collaborative lawyer.
How to Proceed with an Amicable Divorce?
Choose the proper court.
Download and print the papers for an uncontested divorce.
Fill out the petition.
Make three copies, sign and date each one in the presence of a notary.
Submit one agreement to the state district court.
Serve one copy on your spouse via an intermediary such as a professional process server or county constable, pay the filing fee, and wait between 30 and 90 days.
Prepare a settlement agreement for divorce
Prepare the divorce decree, sign it, and have your spouse sign it before a notary public.
After the statutory waiting period expires, file the proposed order and divorce settlement agreement with the county clerk.
Alternatively, you can hire a Divorce Mediator to handle everything for you. Consult our Checklist for an Amicable Divorce.
Source
Need an Affordable Father's Rights Attorney in Scottsdale?
The High Desert Family Law Group should be your first choice when you need the best divorce lawyer in Scottsdale or Phoenix, Arizona. Our experienced family law attorneys will work with you to obtain the best possible outcome in your situation.  Proven trial lawyers in family court, you can trust the firm to represent you fully so you can get on with your life. Call today for your initial consultation.